(Last Updated On: January 8, 2021)
Chief Marketing Tech does a yearly round up of the technology/marketing tools. For example, as recently as 2016 there were over 3,000 digital marketing tools. And now, even more! As a result, the wide array and selection becomes overwhelming. Or exciting depending on your point of view! Depending on your needs, the right solution remains only a click away. To help, the following list includes the most popular, heavily used, and feature-rich products guaranteed to help your business get the most from these technologies.
Broken down by subcategories, here are your digital marketing tools:
Marketing Automation (5)
Screenshot:
Summary: HubSpot is known as the easiest to use marketing automation tool. HubSpot themselves are one of the most educational companies around digital marketing focusing on Inbound Marketing, SEO, email, and social media.
Features:
Advanced email segmenting
Landing pages, blog posting, forms, reporting, and A/B testing, CRM and sales
Unlimited integration options
Price: HubSpot starts Free for their most basic features, with most sites falling between Pro $800/mo and Enterprise $2,400/mo.
Screenshot:
Summary: Another popular marketing automation tool for small businesses is Infusionsoft. It is a common find in the e-commerce market, as well as other industries that have frequent online sales.
Features:
Handles online sales, a feature most marketing automation tools do not offer.
Both web and mobile payments
Sales automation
Price: Infusionsoft starts at $199/mo with its largest package at $599/mo plus other possible add-ons for more leads or emails.
Screenshot:
Summary: Marketo is a highly advanced automation tool with a vast array of features, options, packages, and more. When your company has an extensive list of 100k+ Marketo is the next step for lead scoring, segmentation, automation, and data.
Features:
Account based marketing
Mobile marketing
Digital Advertising
Price: Marketo pricing is highly intricate with several options each feature package. There is no pricing information on the site.
Screenshot:
Summary: WebEngage is a Marketing Cloud that helps brands boost their Retention Marketing efforts with hyper-personalized, highly contextual communication campaigns. It is a full stack Marketing Automation platform that helps brands create intelligent user engagement campaigns on multiple channels like Email, SMS, Mobile and Web Push, In-App and Web Messages etc.
Features:
Journey Designer – Brands can create trigger-based lifecycle marketing campaigns by combining user's personal and behavioral attributes
Live Segmentation – Create static and rolling segments to branch out your users into various groups based on preferences of your liking.
Cross-Channel Communication – Create campaigns that go beyond a single-channel: Target your users where they are actually present, or spend the most amount of time.
Data-Driven Personalisation – Map important data points to understand the user's behavior on multiple platforms, and understand their motivations behind performing certain actions. This will help you create highly targeted, contextual campaigns that actually add value to a user's life and increase conversion possibilities.
Price: 
Start your free 14 days trial to experience the next generation of marketing solutions.
Screenshot:
Summary: ClickFunnels is a price-friendly tool that offers automation, integration and unlimited emails without compromising quality. It is easy to use, has a drag and drop design feature, and allows you to sell and automate marketing.
Features:
Mobile phone marketing automation
Works with your online sales
Unlimited emails and leads
Price: From $97 for the standard package to $297 for the full suite.
Account-Based Marketing (2)
Screenshot:
Summary: Engagio allows your marketing team to focus on ideal clients for your company. Once you've selected accounts, bring them into Engagio for account based analytics that integrate with most marketing automation platforms, and allow you to be more specific with different channels of marketing, and get sales and marketing teams to align for best results.
Features:
Multiple team members on target account
Personalized and individually reviewed emails
Every appointment, sales call, email, interaction from their team in one location
Price: Not listed, must get a demo.
Screenshot:
Summary: Demandbase is another account-based marketing solution. They offer integrations with several other tools outside of marketing automation, to make an easier leap to sales, advertising, and analytics. The dashboard seems to be feature rich, and complicated, though gives the user every tool possible to get the job done.
Features:
Includes account-based advertising and sales
Data enrichment
Implementation services
Price: Not listed, must get a demo.
Business Automation (4)
Screenshot:
Summary: Quite simply this tool helps data from one application talk to another. If you make a list in Asana, Zapier will automatically add cards to Trello. If you have a new email in MailChimp, a new document can be added to Google Documents. Save time, get Zapier.
Features:
Sharing data
Starting new cards, documents, emails, files, etc
Automatically sending information
Price: Free to $90.75/mo with 50,000 tasks (note tasks add up quickly).
Screenshot:
Summary: Different from Zapier, Segment collects all of your customer data and through their own data processes, they send it where you need it for analytics, projects, etc. Think of it as the ultimate customer database.
Features:
Collects from several warehouses
Over 200 integrations
One API to integrate with.
Price: They offer a free account for developers, and paid accounts start at $100/mo.
Screenshot:
Summary: Another business and information automation tool, IFTTT is completely free and works on many of your favorite apps. It even works on tablets and smartphones.
Features:
Automate photo sharing
Automate messaging
Unlimited usage
Price: Free
Screenshot:
Summary: A chatbot platform that provides a way to automate your marketing activities and lead generation via chatbots. MobileMonkey allows you to chat with customers in real-time with free and flexible plan that grow with your company.
Features:
Unlimited contact leads
Free chatbot and mobile app
Integrates with Facebook page
Price: Free to start and up to $299 per month for advanced tools.

Email & Messaging (5)
Screenshot:
Summary: Popularly known for being a free lead capture tool, that allows limited list sizes, and one Final Welcome email, MailChimp became a fast favorite. Once you upgrade to paid accounts, list sizes can increase, and you can automate the sending of many more emails.
Features:
Extensive integration options
Easy contact import
Segmentation and automation
Price: Starting at Free, and offering a Pro Marketer account from $199/mo.
Screenshot:
Summary: ActiveCampaign is more of a marketing automation platform, but because they focus heavily on email marketing we are listing them here. A strong point for AC is the ability to work as a CRM while delivering top-notch email service.
Features:
SMS Marketing
Dynamic Content
Contact & Lead Scoring
Price: Their entry level account is $9/mo going up to $149/mo.
Screenshot:
Summary: Send marketing emails and transactional emails all from one dashboard. SendGrid makes it easy to handle all of your emailing from one place without needing additional integrations. This helps keep you from sending too many messages at once and overwhelming the user.
Features:
Account creation emails
Password resets
Account notification emails
Price: Starts at $9.95/mo and increases based on the number of leads and emails sent per month.

Screenshot:
Summary: Track usage of your app and use the information to automate appropriate in-app and email messaging that encourages retention and engagement. Similar to Mixpanel with email marketing and in-app messaging included.
Features:
Website visitor messaging
Support features
Authority ebooks
Price: Not listed.

Screenshot:
Summary: An alternative to Intercom, Clevertap also includes segmenting, funnels, and other campaign options. Specifically for mobile apps and website usage.
Features:
Revenue attribution
Uninstall tracking
Device crossover
Price: Free for 10,000,000 data points/mo

Social Media (6)
Screenshot:
Summary: A social media tool that allows you to save multiple messages in a queue that are pulled based on a schedule you set. Along with the browser extension, this is one of the easiest ways to save messages for your social accounts.
Features:
Unlimited Queue
Post Analytics
Personalized Schedule
Price: Free for individuals with a 10-item queue. Up to $399/mo for businesses.

Screenshot:
Summary: Manage all of your social media activities in one application. Pull in feeds from Facebook, Twitter, Linkedin, and others, while scheduling posts for the future, and monitoring for keywords.
Features:
Extensive integration library
Unlimited dashboards
Social media University
Price: Free for up to 3 social accounts, then $9.99/mo.

Screenshot:
Summary: For companies who expect a lot of chatter about their brand on social media, Mention offers one place to see all of these mentions and respond to them.
Features:
Mentions from websites
All top social media channels
Hashtag tracking
Price: Solo plans start at $29/mo.

Screenshot:
Summary: A social media contest tool that offers a simple to use interface, with several options for collecting data. There's even a bit of gamification to entice users to compete.
Features:
Rewards options
Pinterest Capture
Social galleries
Price: Free to $149/mo.

Screenshot:
Summary: Another social media contest tool with a few additional features that allow competitors to collect more points. Rafflecopter has several integration options so you can share lists with your marketing automation application.
Features:
Polls & Surveys
Real time analytics
Pinterest Entries
Price: From $13/mo.

Screenshot:
Summary: Another social media dashboard with a friendly and feature packed design. This is social media for businesses, with reporting, blog subscription feeds, and a beautifully easy-to-use interface.
Features:
Limited queue
Multiple analytics and reporting options
Scheduling to top social platforms
Price: From $99/mo.

Content Marketing (7)
Screenshot:
Summary: A suite of marketing tools that help you increase traffic all in a WordPress plugin. Several of the features are free to use, or at least to some extent, and analytics for usage are included as well.
Features:
Social sharing
Popups and pop overs
Email service integration
Price: Starts free

Screenshot:
Summary: Contently puts all of your content marketing activities in one tool. Create content, optimize it, add images, etc. Then, publish it and share it to email lists, social media, and other outlets. Finally, track what is working to make decisions for improvement.
Features:
Track attention time
Link content to sales
See stats by team member
Price: Not listed, must request demo.

Screenshot:
Summary: Outbrain hosts thousands of publishers who allow ads on their sites to promote your content. On the other side of Outbrain you can join to have the ads on your site, and earn ad revenue.
Features:
Specify website categories
Include images in ads
See how each ad performs
Price: Ad spend.

Screenshot:
Summary: As Buffer allows you to set items in a queue for delivery, Quuu gives you content to auto-fill Buffer. Choose your favorite categories and Quuu will send new content everyday. They also offer content promotion, for as little as $30 per post.
Features:
Choose from hundreds of categories
Select up to 10 shares per day
Add Facebook, Twitter, or Linkedin
Price: From Free to $30/mo.

Screenshot:
Summary: Buzzsumo offers a searchable database of content titles and topics from the last year for you to identify the most popular content. This allows you to find popular topics for your content marketing strategies.
Features:
Customizable search
Saved searches
Alerts for content popularity
Price: From $79/mo

Screenshot:
Summary: It's always best to work in one platform whenever possible, and Contentools makes that easy for content marketers. Inside Contentools a marketer can research content, collaborate on content, write, schedule, publish, and share.
Features:
Client and team collaboration
Content marketers for hire
Analytics for content
Price: Not listed

Screenshot:
Summary: Zest is a chrome extension for new tabs that presents curated marketing content. All content goes through one of the co-founders before being posted to the site to ensure top quality. Marketers can suggest links, and follow their favorite users.
Features:
Leveled reads
Topics by category
Follow favorite experts
Price: Free

Search Engine Optimization (5)
Screenshot: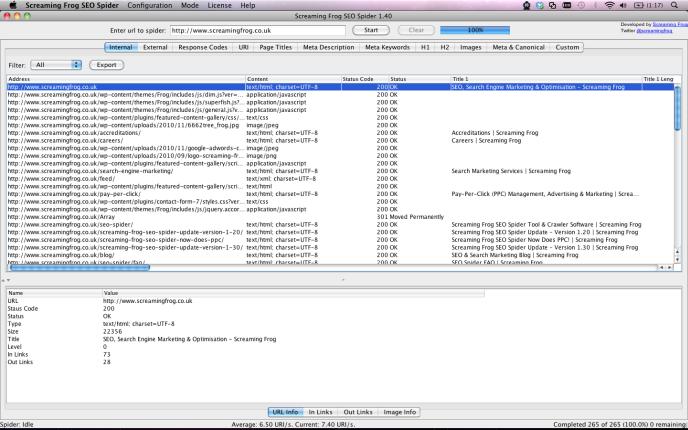 Summary: Screaming Frog is a popular industry tool used to help you visualize the SEO meta data on your website. There is a free version but it only offers a certain level of information. This tool helps you perfect your onsite SEO information.
Features:
Find broken links
Analyze image data
Generate sitemaps
Price: Free up to 500 URLs, then £149/yr

Screenshot:
Summary: Research keyword opportunities to identify where your website can rank. You'll see opportunities for low hanging fruit, and see how competitors rank.
Features:
Helpful browser extensions
Insights for easy improvements
Extensive knowledge libraries
Price: From $99/mo

Screenshot:
Summary: The most important aspect of SEO is linking, and with Ahrefs you'll see where your links are coming from, where competitors get links, and changes in linking.
Features:
Monitor linking
Keyword rankings
Mobile rankings
Price: From $99/mo

Screenshot:
Summary: A unique SEO tool that helps you find appropriate context for your article. Include the right language for improved rankings.
Features:
Site audit
Article audit
Suggested content
Price: From $500/mo

Screenshot:
Summary: There are hundreds of long tail keywords you could possibly rank for and Hittail helps you identify the best ones for your site.
Features:
Extensive keyword lists
Limited ranking information
Web page audits
Price: From $19.95/mo

Testing (5)
Screenshot:
Summary: Easily load your site into Optimizely to construct and implement A/B testing experiments. Experiments can be based on several options, such as audiences, revenue, and conversions.
Features:
Statistical significance
Integrated Google Analytics
Click tracking
Price: Free trial, price not listed.

Screenshot:
Summary: One of the easiest solutions for A/B and split testing on your site. The drag and drop interface makes testing easy, and charts help improve decision making.
Features:
Research and user feedback
Personalization options
Heatmaps
Price: From $49/mo

Screenshot:
Summary: Google uses it's analytics platform and adds testing capabilities. Optimize 360 is easy to use, and works flawlessly with your analytics making it a supremely powerful tool in conversions.
Features:
Native Google analytics integration
Goals, Layers, Audiences from Google Analytics
Data relies on proper Google Analytics implementation
Price: In Beta, price not listed.

Screenshot: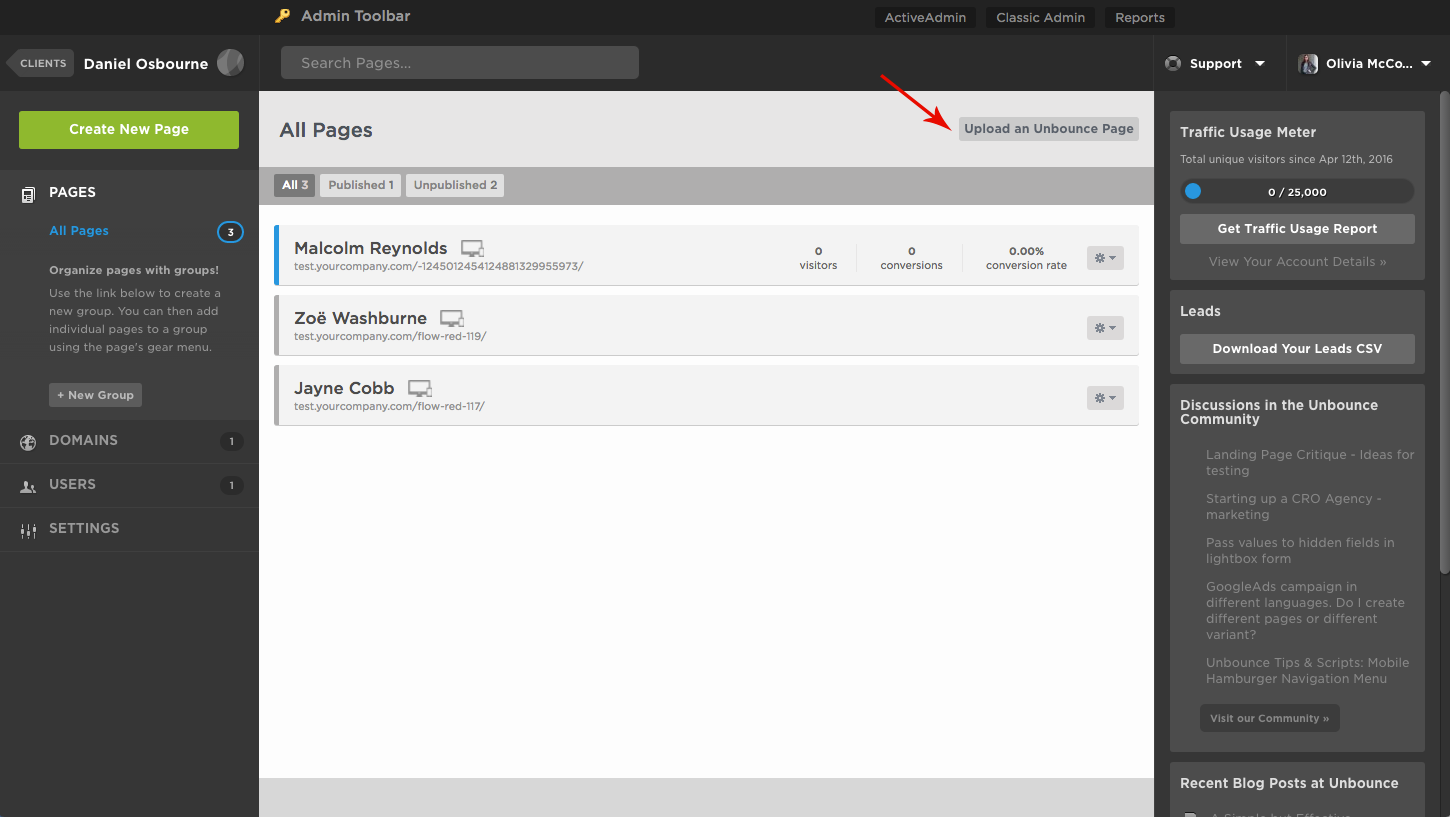 Summary: Build landing pages quickly from templates. Extensive customizations for web and mobile pages, and simple testing.
Features:
Dozens of landing page templates
Ability to design your own page quickly
Integration with several tools
Price: Free 30 Day Trial, then from $49/mo

Screenshot: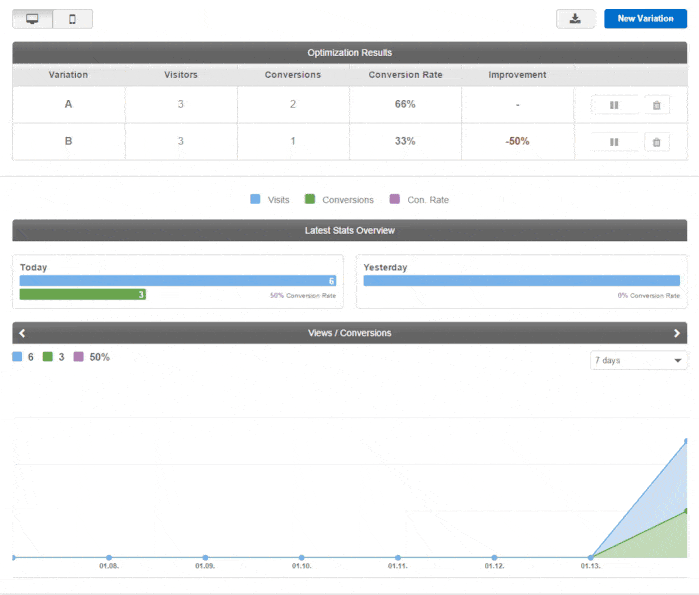 Summary: Landing pages that integrate and work on WordPress. Make your landing page, and get a free link to share and test it for free for 14 days.
Features:
Templates to work from.
Integration on WordPress sites.
Widgets, timers, form integration.
Price: From $29/mo paid annually.

Tracking/ Reporting (3)
Screenshot:
Summary: Use heatmaps, surveys, and NPS to discover how users and visitors use your site, then make decisions on how to improve your product or service.
Features:
Recordings
Conversion Funnels
Form analysis
Price: Starts free for 2,000 page views/mo

Screenshot:
Summary: Track every action your user takes, from signing in to where they click, what they read, and what features they use in your application.
Features:
Mobile or Web
Extensive usage reports
Optimize for increased usage
Price: Starts Free for 20 Million *Data points/mo
*Data points go quickly, every active user may use thousands of data points per month.

Screenshot:
Summary: Google Analytics (GA) is the most widely known and used website reporting solution. Get simple reports from traffic, and complex reporting including goals.
Features:
Customizable reports
Custom audiences
Easily integrated with just about any tool
Price: Starts free.

Ads & Retargeting (3)
Screenshot:
Summary: Handle your online advertising through Adroll. They include advertising on Facebook, Twitter, Instagram, Google, and others. One platform, several advertising options.
Features:
500 ad exchanges
Performance monitoring
Agency accounts
Price: Based on advertising spend.

Screenshot:
Summary: Retarget your ads based on traffic you've already gotten. Once visitors leave your site, you can still share your message in advertising opportunities, all through Perfect Audience.
Features:
Mobile retargeting
Revenue tracking
Cookie Freshness
Price: Free for 14 Days, based on advertising spend.

Screenshot:
Summary: See what your competitors are doing for ads. Get access to their copy, keywords, and more. Know all about your competition before spending money on advertising.
Features:
Seo & Ppc research
Eliminate poor performing keywords
Find best ad copy
Price: From $44/mo paid annually.

Mobile (2)
Screenshot:
Summary: A tool for connecting with mobile users through push notifications, Facebook messenger, and within your apps. Used to improve conversions, engagement, and retention.
Features:
Watch notifications
Analytics, reporting
Geomarketing
Price: Not listed

Screenshot:
Summary: The mobile option to interact with your users. Apptentive provides support options, in-app messaging, surveys, rating prompts, and more. All of these features help you understand your users and make retention decisions.
Features:
Targeting
Reporting
Customer success advice
Price: 30-Day free trial for up to 100,000 users.

Dashboards (2)
Screenshot:
Summary: One dashboard for all of your most important metrics. Cyfe has extensive options to display all of the information you need on your dashboards.
Features:
Custom Data Sources
Real Time Data
Unlimited customizations
Price: Free to start

Screenshot:
Summary: Another dashboard option that is the easiest to use. The average internet user can quickly set up beautiful dashboards for their team without knowing code or other technical terms.
Features:
Chart display options
Alerts
Correlation & Causation Mashups
Price: Free to start

Images & Video
Screenshot:
Summary: A free tool that makes design easy and user-friendly. Free templates for the most popular dimension sizes (from social media to advertising) and some free stock images to use.
Features:
Upload your own photos
Work design platform
Drag and drop image elements
Price: Starts free.

Screenshot:
Summary: Design your own infographics with a simple to use web app. There are several infographic templates to choose from, as well as premium options.
Features:
Build reports and presentations
Charts, maps, icons, images
High res downloads
Price: Free to start

Screenshot: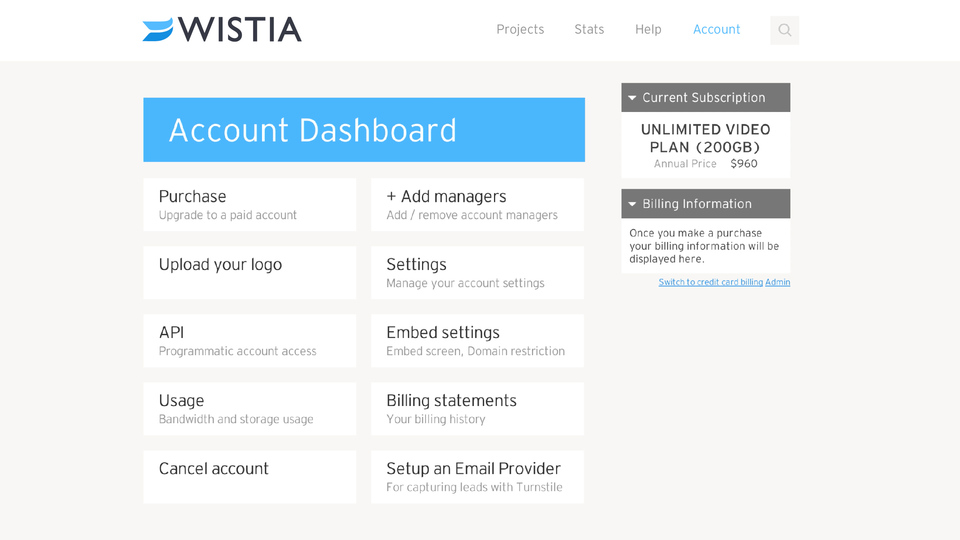 Summary: A video hosting platform that gives videos a premium look without advertising. Unprecedented video analytics with video heatmaps and viewing trends.
Features:
Content control
Video interactivity
Tool integration
Price: Start by hosting 3 videos for free.

With thousands of digital marketing products on the market, what are some of your favorites? What are others you've heard of that we haven't included here?